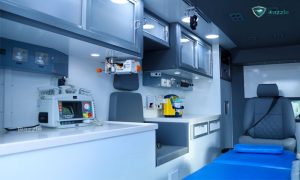 Apart from all other aspects related to Ambulance manufacturing, the Dazzle focuses on ambulance safety. We always use the best warning systems and seating designs. The best outcome of safer ambulances has made the Dazzle the best ambulance manufacturer in the World.
The warning systems of the Dazzle manufactured ambulances will produce excellent sirens, vibrational and good visual lights as warning systems. The Dazzle ambulances are always of the newer technologies, safer as compared to other ambulances both for the patient and paramedics. Another important feature is that we provide adjustable seats on demand of the customers which will make the use of ambulances more comfortable.
The pre-hospital care is of much importance as the safety of the patient is a must after the accident or any other critical conditions. The actual hospital care can be given only after reaching the hospital and thus the ambulance must act as a safer and convenient place for giving the first aid and pre-hospital care.
The Dazzle has three ranges of ambulances type I, type II and type III respectively. Each one of them is performing basic and advanced emergency ambulance services. All the three has different levels of efficiency and the customers can choose according to the needs.
Our new ambulance features like improved size and functionality and safer seating have improved the market of the Dazzle manufactured ambulances. With that, the placing of a new safety system inside the ambulance and our four-wheel drive ambulances are among the top-rated ambulances in the World. The Dazzle's custom builds ambulances are always a known vehicle for safety and efficiency for the passengers.
The Dazzle, vehicle manufacturer also built and convert vehicles into armored vehicles or any other special purpose vehicles. We do not compromise on the quality and safety of the vehicles, so we are your trusted partners.
You can always rely on the Dazzle ambulance manufactures for the safest, good quality and outstanding vehicles in the World. Along with the time the Dazzle vehicle manufacturer had proved its efficiency in ambulance manufacturing and armored vehicle manufacturing there are satisfied customers for the dazzle throughout the World, who are our greatest assets.