Different kinds of Emergency vehicles are Converted by Dazzle UAE.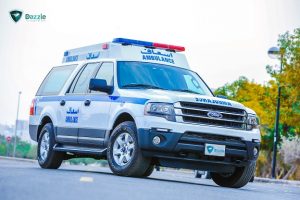 Dazzle owns a stock of converted vehicles which are converted to high-quality custom design and build, customer focused, expert network and we also offer pre and post-sales service.                        Our team gives the guarantee to the quality, durability and safety of the vehicles. We manufacture and provide different kinds of Ambulance with a good emergency life support system. The varied support systems include basic life support, advanced life support and standard life support. We also supply four-wheel-drive Toyota Land cruiser rescue vehicles, vehicles which are wheelchair accessible and rapid response vehicles. More clearly saying, the Dazzle team can source anything for carrying structures and wheelchairs.
The materials used by Dazzle team in Ambulance conversions are guaranteed to provide complete sterile environment ensuring the highest standards in case of the functionality and comfort, which high durability and safety.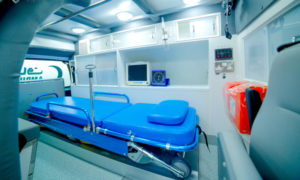 We usually manufacture the Ambulances with the following services such as :
– Stretcher lifts
– Stretchers, wheelchairs and resistant systems.
– Battery management systems with auxiliary batteries.
– Emergency sirens
– Wipe clean interiors
– Piped oxygen
– De-fibrillation unit
– Laerdal suction unit
– Lowerable suspension
– Pulsoxymeter
– Medical air
– Light bars and strobes
– 240v electrics
– Dark privacy windows
And many more facilities are provided. We also do optional services while manufacturing as per the requirement laid down by the customer.
We have the perfect ambulance body builders excellent to develop the tailor-made light casing for the ambulances and excellent design services. The Ambulances manufactured by our team will have fast and easy access to all the equipment which are necessary to sustain the life.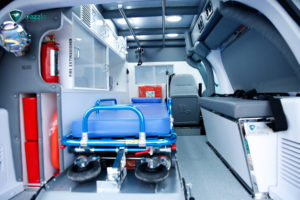 Which reduces the time to reach the patients and sometimes these seconds can save the lives. Latest satellite navigation technology is used with the new Ambulances along with each vehicle having air conditioning, onboard cooler box, fluid warmer central locking system and modern electric equipment are used in the emergency vehicles.
Ambulance driving is also made less stressful for the Ambulance driver as it is equipped with a fully automatic gearbox with a Tiptronic option. It also has traction control and breaks assist.