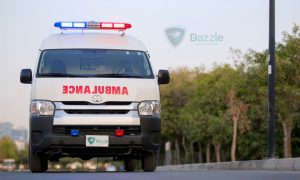 The newest trends in the ambulance industry are always looking for new and innovative methods to give protection not only to the patients but also to the paramedic crew inside the ambulance. The Dazzle ambulance manufacturers are the best ambulance manufacturers and vehicle converters, who are now the leading vehicle converters with maximum satisfied customers. The ambulance manufacturers, who design, construct and test the different varieties of ambulances and find the best among the ambulances.
The Dazzle ambulances are specially designed for emergency situations and to manage the medical severe illness. But, it is also designed in such a way that it can also provide transportation in non- medical emergencies. The Dazzle ambulance manufacturers have rescue trained professionals working in the vehicle conversion team so that the Dazzle manufacturers can ensure the safety. Thus the Dazzle provides the best of the world's emergency vehicles.
When you had decided to get an ambulance and you are in the market to get a new or a used ambulance, you have to check for the safety and reliability of the vehicle so that it accounts for some of the essential factors in the decision. The Dazzle's satisfied customers also had identified the work and also suggested that the Dazzle is the manufacturer who emphasizes safety on the designs and is very much innovative in their designs and the production of the ambulances. The Dazzle manufactured ambulances are sold out throughout the world and are thus a manufacturer of the ambulance with customers all over the world.
The Dazzle also manufactures own parts for the ambulances. Not only that, it manufactures the parts, but all of these parts manufactured will undergo the rigorous testing procedure before the parts are installed on an ambulance. The parts will also get crash tested and also weight tested. This will maintain the industry standards. The top priority of the Dazzle ambulance manufacturers is the quality of the ambulances manufactured by them. The construction allows them to build modules that are lighter but are stronger and this leads to increased safety of the ambulance manufactured.
The newly designed door handles and emergency direct release tab in case of emergency so that it ensures safety for both patients and crew inside the ambulance. The ambulances are also manufactured according to the suggestions of the customers. After manufacturing every vehicle is scrutinized to provide complete safety measures before it is on the road.