Dazzle UAE is eminent for manufacturing and delivering the best solutions in Critical care Ambulances. Dazzle team actually manufactures the ambulance in such a way that an ambulance is a hospital on wheels. Manufacturing the most advanced and safest ambulances are the ultimate aim of the Dazzle UAE. The Dazzle team is highly dedicated to manufacturing the ambulances with unparalleled medical services inside it. So that the patient can be shifted from one place to another with safety. The Dazzle UAE manufactured ambulances are good in quality. And is efficiency is best in such a way that all the types of equipment are well placed and all the works on the vehicles are well done. It is the means of comfort and safety for the people and patients? There is no compromise on the quality of the medical equipment provided in the ambulance.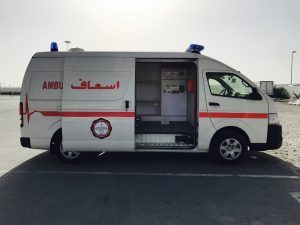 The ambulances manufactured by the Dazzle team are tailor made as per the need of the customer, keep in mind the safety and reliability of the vehicle With the good manufacturing and services of the dazzle, it had now become the best of the ambulance manufactures in UAE with many satisfied customers in the Middle East and throughout the World Wide.
Some of our widely manufactured ambulances include
–    Advanced Cardiac Life Support ambulance (ACLS) and Basic Life Support Ambulance (BLS)
–    Standard Life Ambulance
–    Mobile Hospital
–    Mobile OPD van
–    Critical care unit ambulances
While manufacturing ambulances, we always ensure all the medical amenities for the critical care support during an emergency. We are good at manufacturing innovative ambulances which will work much better in saving lives of patients.
The ambulances manufactured are custom designed and cost effective with an expert network throughout the World. We also provide pre and post sales services for the ambulances for making its long run and also to improve its efficiency and safety.
The achievement of Dazzle UAE as the leading manufacturer and supplier of ambulances is mainly due to our dedication and understanding of the health and safety requirements in manufacturing an ambulance. We always keep our pride in manufacturing and converting a vehicle, as it is our passion and dedication to satisfy the customer's needs.